Ehemaliger Lehrstuhlinhaber und -gründer
Kontakt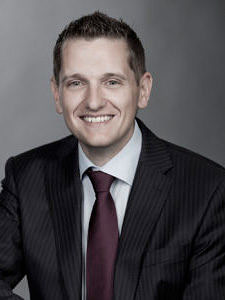 Prof. Dr. Alexander Brem
Tätigkeit: Ehemaliger Lehrstuhlinhaber
Adresse:

Pfaffenwaldring 19
70569 Stuttgart-Vaihingen
E-Mail: alexander.brem@ets.uni-stuttgart.de
Vita
Nach Abschluss seines Diplomstudiums der Betriebswirtschaftslehre im Jahre 2004 arbeitete Prof. Dr. Alexander Brem, geboren 1979, als wissenschaftlicher Mitarbeiter am Lehrstuhl für Industrielles Management an der Friedrich-Alexander-Universität Erlangen-Nürnberg (FAU). Parallel dazu gründete er zusammen mit drei Kommilitonen die VEND consulting GmbH, die 2009 für den Bayerischen Gründerpreis nominiert und mit dem Gründerpreis Mittelfranken ausgezeichnet wurde.
Nach Abschluss seiner Promotion im Herbst 2007 war Professor Brem als Geschäftsführer und Berater bei der VEND consulting GmbH tätig. 2009/2010 war er zudem als Post-Doc am Lehrstuhl für Prozessmaschinen und Anlagentechnik der FAU beschäftigt, wo er die Ausgründung der Agrolytix GmbH betreute. Mit diesem Unternehmen war Professor Brem für den Hochschulgründerpreis nominiert und gewann den deutschlandweiten Science4Life Gründungswettbewerb sowie den Businessplanwettbewerb Nordbayern. Darüber hinaus ist Professor Brem Gründungsmitglied und stv. Vorstandsvorsitzender von "quer.kraft – der Innovationsverein e.V.".
Von 2011 bis 2014 war er Inhaber der Juniorprofessur für Ideen- und Innovationsmanagement an der FAU. Im Anschluss daran leitete er bis 2016 als Professor für Technologie- und Innovationsmanagement an der Syddansk Universitet (Sønderborg, Dänemark) die interdisziplinäre Sektion SDU "Innovation and Design Engineering".
Von Dezember 2016 bis Dezember 2019 war er Inhaber des Lehrstuhls für Technologiemanagement an der FAU. Des Weiteren ist er Visiting Professor an der EADA Business School (Barcelona, Spanien) und der HHL Leipzig Graduate School of Management sowie International Research Associate an der DeMontford University (Leicester, UK). Zum 1. Mai 2017 wurde er zum Honorarprofessor (dänisch "Adjungeret Professor") an der SDU ernannt.
Seit Januar 2020 ist er Institutsleiter und Inhaber eines Stiftungslehrstuhls an der Universität Stuttgart.
Forschungsinteresse
Fragestellungen zum Management von Forschung und Entwicklung in technologieorientierten Unternehmen stehen im Mittelpunkt der Forschungsaktiväten des Lehrstuhls. Hierzu gehören die Themenfelder Idea Management, Constraint-based Innovation, User Innovation sowie Technology Entrepreneurship. In diesen Themengebieten ist Prof. Dr. Brem als Autor sowie als Editor tätig. Hierzu gehört das International Journal of Innovation and Technology Management (IJITM), für das er als Herausgeber aktiv ist, sowie Technological Forecasting and Social Change (TFSC) und IEEE Transactions on Engineering Management (IEEE TEM), für die er als Mitherausgeber tätig ist. Zudem darf er sich über diverse Mitgliedschaften in Herausgeberbeiräten freuen. Hierzu gehören z.B. die Academy of Management Perspectives oder das International Journal of Innovation Management.
Ausgewählte Publikationen
2019: Best Paper Award "Innovation Management" 2019 (EBS Universität, Strascheg Institut für Innovation, Transformation und Entrepreneurship)
2019: Publons Peer Review Award 2019 (Publons)
2018: IEEE Senior Member (IEEE Institute of Electrical and Electronics Engineers)
2018: Renate-Wittern-Sterzel-Preis der FAU (Gleichstellungspreis) (Friedrich-Alexander-Universität Erlangen-Nürnberg)
2018: Publons Peer Review Award 2018 (Publons)
2018: Best Paper Award 2018 (Society of Open Innovation: Technology, Market, and Complexity and Università degli Studi di Napoli Federico II)
2017: Publons Peer Review Award 2017 (Publons)
2017: Publons Peer Review Award 2017 (Publons)
2017: 2017 Highly Commended Paper Award for European Journal of Innovation Management: Literati Network Awards for Excellence (Emerald)
2014: 2014 Highly Commended Paper Award for Journal of Small Business and Enterprise Development: Literati Network Awards for Excellence (Emerald)
2013: ISPIM Scientific Panel Award Winner 2013
2010: Winner Business Plan Competition Northern Bavaria (with Agrolytix)
2010: Winner Science4life Business Plan Competition (with Agrolytix)
2009: Nomination Bavarian Entrepreneurs Award (Bayerischer Gründerpreis, with VEND consulting)
2009: Winner Franconian Entrepreneurs Award (Mittelfränkischer Gründerpreis, with VEND consulting)